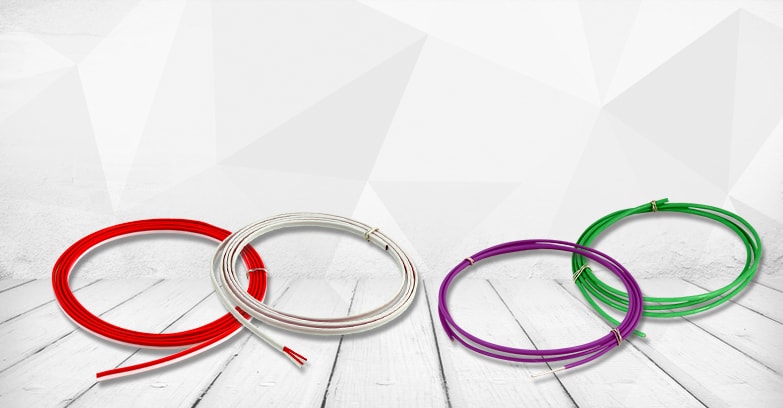 Heat Resistant ETFE Insulated Wires for Demanding Wiring Applications
ExothermInstruments are specialized in producing electronic wires that provide reliable service in demanding environments. Our range of ETFE (Ethylene Tetrafluoroethylene Copolymer) insulated wires offers you unmatched operational excellence, as they are manufactured to the highest quality standards. These high temperature etfe wire displays several superior features, making them ideal for high temperature, low smoke, flame retardant applications.
Assured with Reliable and Safe Performance
Electronic wires with ETFE insulation are known for their:
Excellent mechanical strength and toughness
Good resistance to heat and chemicals
High specific dielectric strength
Oil, flame, and radiation resistance
Available in a Wide Range of Specifications
At Exotherm, ETFE insulated wires are available in single and dual insulation options. Also, they can be produced in a range of specifications.
Operating Temperature – Ranging from 100°C to 150°C
Voltage Ratings – 600V
Tensile Strength – 42 N/mm² (6100 psi)
Conducting Material- Single conductor stranded tinned copper
Available Colors – Black, Red, White, Green, Yellow, Blue, Brown, Grey, Violet, Orange.
Explore our inventory and a request a quote. Our inventory is rich with various styles of electronic wire with ETFE insulation.
Where are High Temperature Wires Used?
ETFE insulated wires are produced to resist physical abuse during and after installation. Also, they retain their tensile strength and elongation properties throughout their service period. Due to these superior features, these wires are widely used for wiring equipment, and machinery that operate in harsh conditions.
Applications include the internal wiring of:
Medical and scientific instruments
Computers
Motors,
Transformers
Aircraft
Home appliances
Process instrumentation
Marine systems
Automotive systems
Telecommunication system
Military equipment